Cracked heels are a common foot problem, especially during hot months when people wear sandals and flip-flops. They are disgusting to most people it explains why people waste their money on pedicures. Also, if the cracks get deeper, they can be painful and in severe cases can be infected to lead to inflammation or infections.
This article rely on natural solutions shared on internet to solve this problem. Forget expensive products that may have side effects and try these amazing remedies.
Baking Soda and Milk
Ingredients
3 tablespoons baking soda
4 cups of milk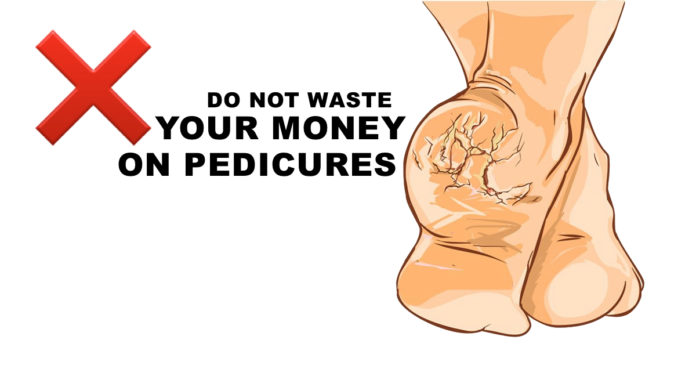 Preparation
Heat the milk, then add baking soda. Mix well and pour the mixture into a bowl suitable for the size of your foot.
Soak your feet in this mixture for 10 minutes, then rinse in cold water.
The results are amazing! Your feet will be amazing after a single try and you will be able to wear your favorite sandals again feeling confident about the look of your foot!
Mask With Lemon, Salt, Glycerin and Rose Water
Ingredients
1 tablespoon of salt
1/2 cup lemon juice
2 tablespoon of glycerin
2 teaspoons rose water
Hot water
Pumice
Preparation
Take a warm basin of water and add raw salt, eight to ten drops of lemon juice, a tablespoon of glycerin and a teaspoon of rose water.
Soak your feet for about 15-20 minutes in.
Using a pumice stone, rub your heels and the sides of the feet.
Mix a teaspoon of glycerin, a teaspoon of rose water and a teaspoon of lemon juice. Apply the mixture on your cracked heels. Since this will be a sticky mixture, you can wear a pair of socks and leave it overnight for better results.
Wash your feet with lukewarm water in the morning.
Glycerine is an ingredient commonly used in many cosmetic skin care and personal care products. As a moisturizer, glycerin works to hydrate the skin by sucking water out of the air into the outer layer of the skin.
Repeat for a few days until your heels become soft.
---
Source: Go Stay Fit