If you were ever under the impression that celebrities are people like you and me, you are about to be disillusioned. This list includes celebrity homes all more sumptuous than the others, such as John Travolta's humble aerodrome. The size and beauty of these houses are not their only impressive factor, their prices are also absolutely mismeasured. Ready to be blown away?
20. Tucker Carlson – 2,2 million, Washington D.C.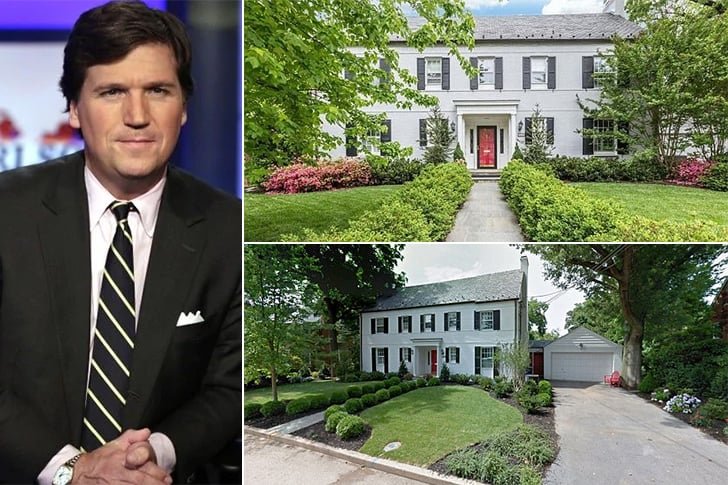 Back in 2011, Fox News political commentator Tucker Carlson lived in this 4 784 square feet colonial Washington, D.C. residence with his wife Susan and four children. The Kent renovated house was well known for its seven bedrooms and six bathrooms. When Carlson moved to New York for work, the luxurious house was sold for 2,2 million de dollars.
19. Famille Obama – 8,1 million, Washington, D.C.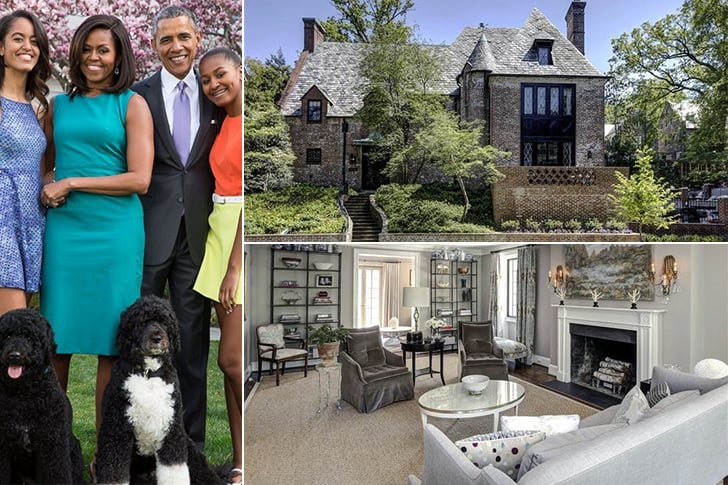 After leaving the White House, the Obama family purchased a house in Washington for 8,1 million dollars. This charming 8 200 square feet residence situated in the prestigious neighboorhood of Kalomara has been home to more than one other presidents. Its most special feature is probably the fireplaces present in each of the eight rooms of the house.
18. Bernie Sanders – 575 000$, Champlain Island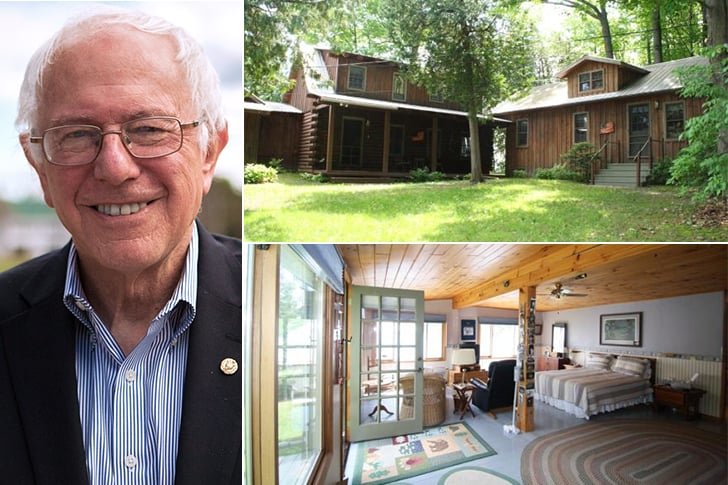 Bernie just spent 575 000 $ for a summer house in North Hero, on Champlain Island. The residence takes up 1 883 square feet with a land of more than 500 square overlooking the lake. Built in 1920, the historic residence has four bedrooms, three bathrooms and an open kitchen. Bernie Sanders also owns a 405 000$ house in Burlington and in Washington's Capitol Hill bought for 488 000$.
17. Michael Phelp – 2,5 million, Scottsdale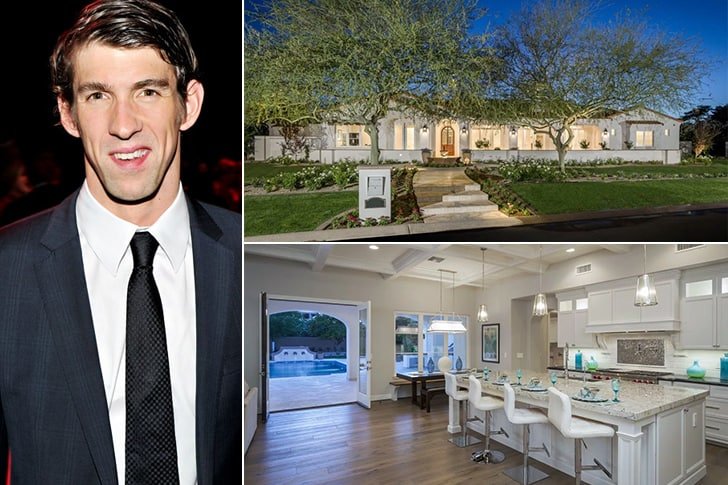 Ever wondered where Michael Phelps spends his time other than Olympic pools? Well since 2016, a good portion of it is in Scottsdale, where he owns a luxurious 6000 square feet home. The house is built on close to an acre of land and includes five bedrooms, six bathrooms, four fireplaces, a hot tub, a pool and everything to dream for.
16. John Travolta – 12 million, Floride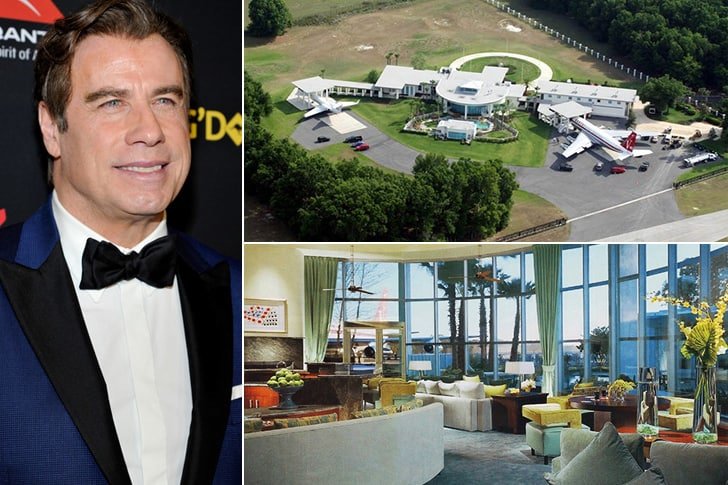 As one of the biggest stars in Hollywood with a net value of 170 million of dollars, John Travolta can't allow himself to waste time in public airports. Which is not a problem, since he has multiple planes in his backyard! You hear right, Travolta's Florida mansion, worth 12 million dollars, is an actual airport doted with a landing track, airplane hangars and private jets, of course. Oh, and the property also includes a golf court and a 16 cars garage.
15. Britney Spears – 9 million, Californie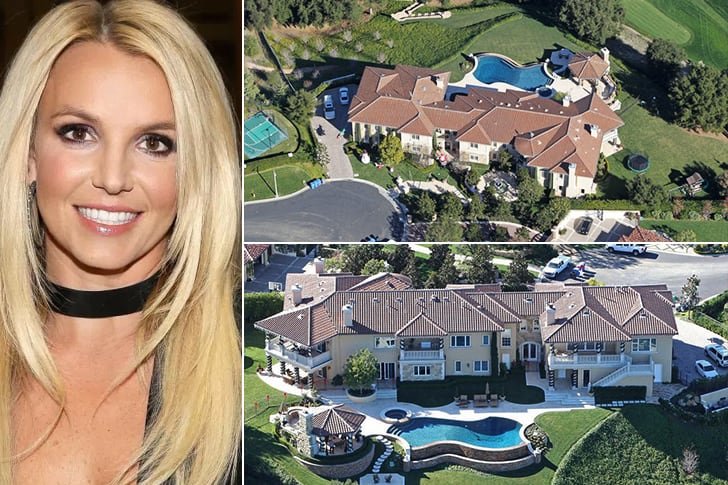 Despite all the controversies, Britney Spears is still one of the highest paid personality of her filed with a net worth of 200 million de dollars. She was therefore willing to spend a lot for a luxurious Californian mansion. The 13 264 square feet Italian villa is composed of five bedrooms and eight bathrooms and is surrounded by a picturesque landscape. The place also has a hot tub, a tennis court and a golf court
14. Drake – 7,7 million, Hidden Hills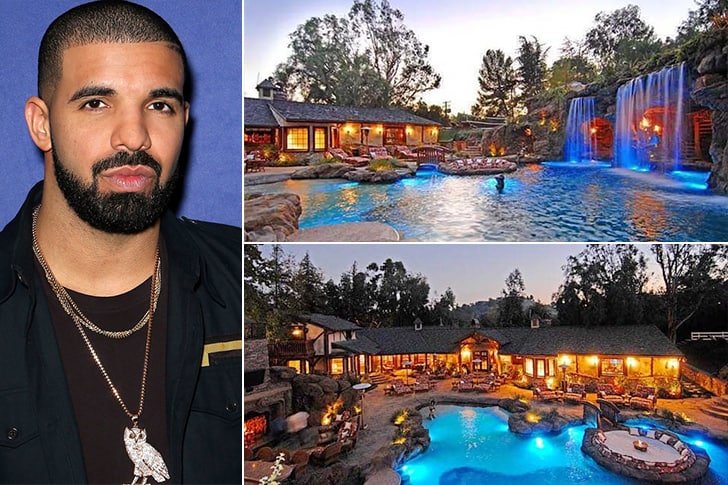 In addition to his incredible car collection, Drake owns at least one sumptuous residence. The rumour says that the rapper fell in love at first sight, but wasn't ready to spend the 27 million dollars asked for the property. It was worth the wait, as he was finally able to purchase the house for "only" 7,7 million dollars. This ultimate man cave includes a few secret passages and a stunning pool with cascades.
13. Miley Cyrus – 2,5 million, Malibu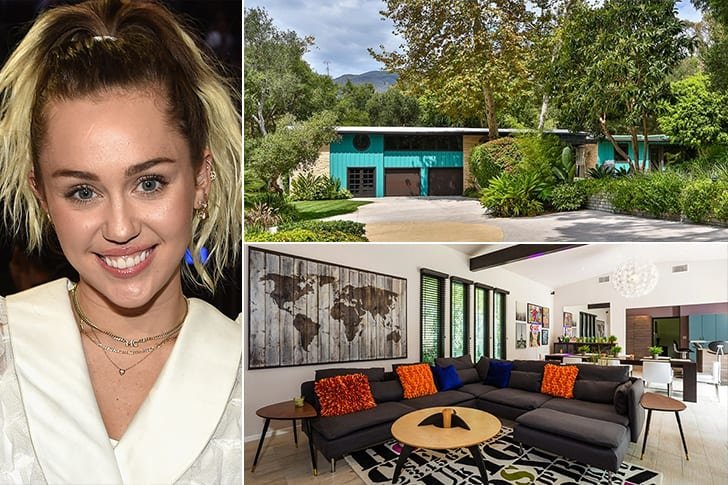 Miley is only 25 years old, but no one could tell judging by her net worth and the long list of luxurious properties in her name. She had already spent about 20 million dollars last year in order to live such a luxurious life and recently added this superb Malibu property to her list. For 2,5 million dollars, Miley now owns this 1 384 square feet house with four bedrooms hidden behind a tropical landscape.
12. Bill Gates – 147,5 million, Washington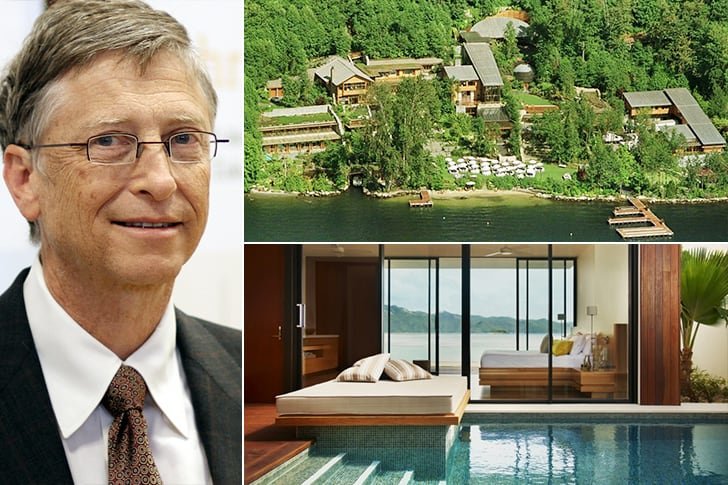 Bill Gates knows a lot about everything and real estate is no exception. With a net value of 89,2 milliards of dollars, this Washington mansion was for him an investment like any other. This 66 000 square feet domain worth 147,5 million dollars, is incredibly well equipped in terms of technology, but also holds a giant private library. It pays to be a nerd!
11. Beyoncé et Jay Z – 88 million, Bel Air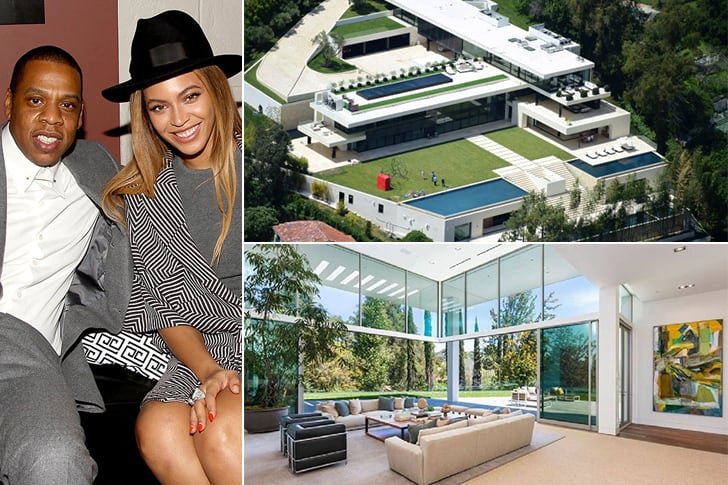 Queen B is worth about 350 million dollars and her husband Jay Z disposes of about 810 million. The billionaire couple obtained an impressive 52,8 million dollars mortgage to buy their new L.A. propriety worth 88 million dollars. The house holds eight rooms and eleven bathrooms. The sumptuous 30 000 square feet mansion also has four pools, a basketball court, a hot tub, staff apartments and an enormous garage.
10. Katy Perry, 4 million, L.A.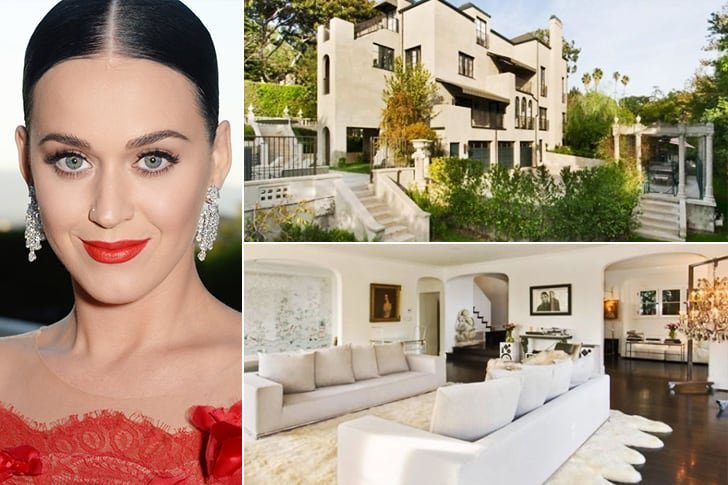 If Katy Perry's eccentric fashion choices are not everyone's cup of tea, her Californian mansion is another story. The Mediterranean style villa of 4 700 square feet is estimated at 4 million dollars, which is quite affordable for the star who is worth 280 million dollars. The propriety includes four rooms, five bathrooms, a gorgeous view and a huge pool. Oh, and her enormous walk-in closed used to be a three cars garage.
9. Chris Evans – 3,5 million, Hollywood Hills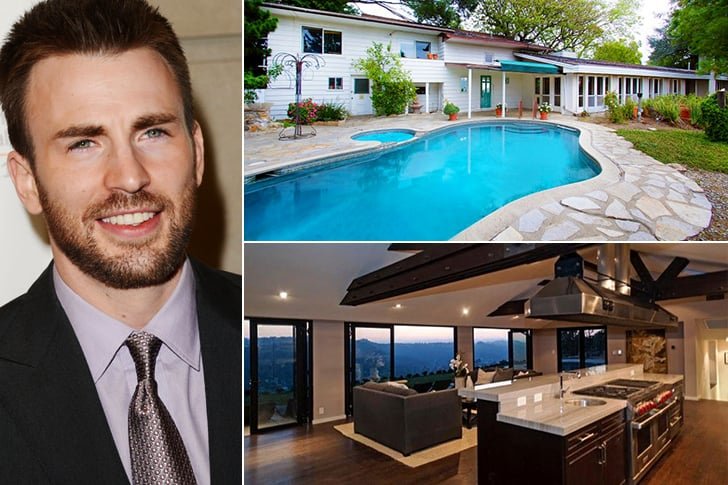 While most of us work two jobs to pay rent, Chris Evans enjoys the bicoastal life. The actor spends half the year in his beautiful Boston bungalow and the other half in his LA mansion. At least, we don't have to pay property taxes twice!
8. Kanye West – 20 million, Hidden Hills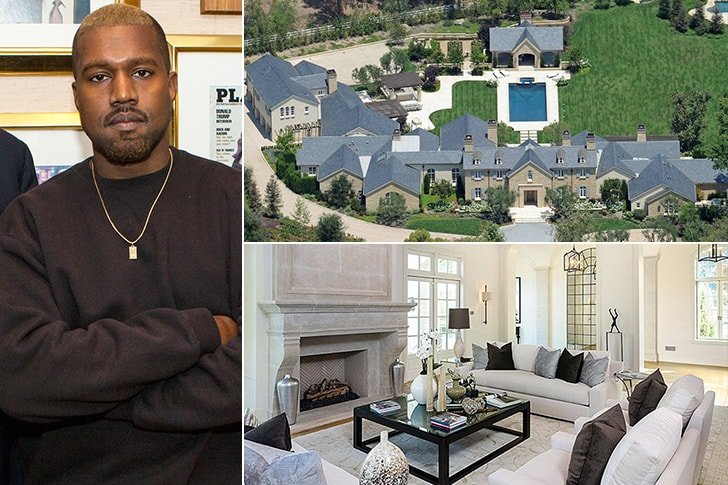 Kanye West did his best to renovate the Hidden Hills mansion worth 20 million dollars to please Kim. He even redid the master bedroom five times! But Kim lost interest in this amazing house. She now has an eye on the Spelling Manor in L.A., a house worth 200 million dollars with 123 rooms, a tennis court and bowling alleys!
7. Johnny Depp – 19 million, Hollywood Hills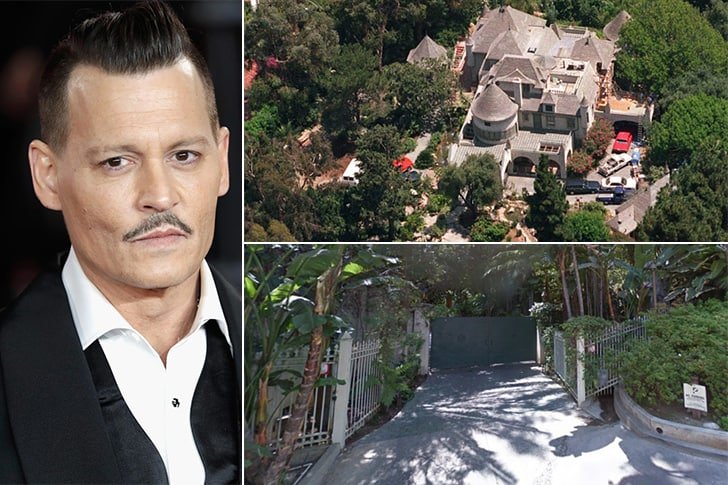 Johnny Depp owns multiple impressive properties all around the world – in LA, on an island in the Bahamas and even in a village in France. But his principal residence, bought in 1995 for 1,8 million dollars is situated in the Hollywood Hills. Built in 1927, the complex is made up of six different houses – of which Depp owns five – covering 7 430 square feet and includes eight bedrooms, 29 rooms and ten bathrooms.
6. Mandy Moore – 2,5 million, Pasadena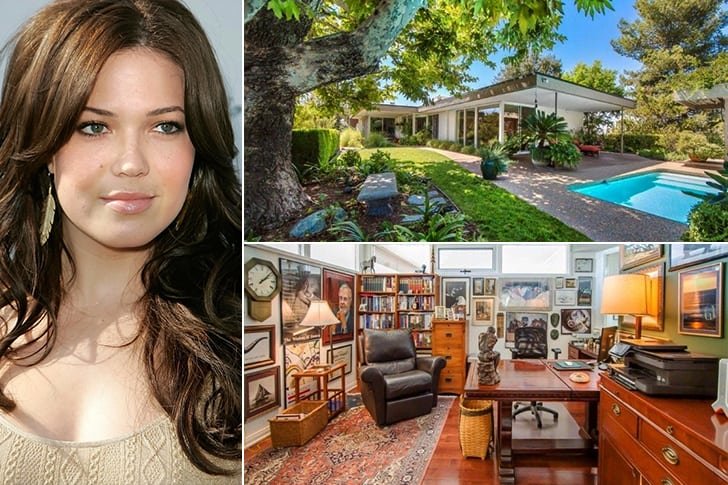 After her divorce with singer Ryan Adams, Mandy Moore decided to sell their old house in order to begin a fresh start. Since 2016, the actress/singer lives her dream in a 3 351 square feet midcentury house with three bedrooms, three bathrooms, an office and a dressing room.
5. Justin Bieber – 20 million, Hollywood Hills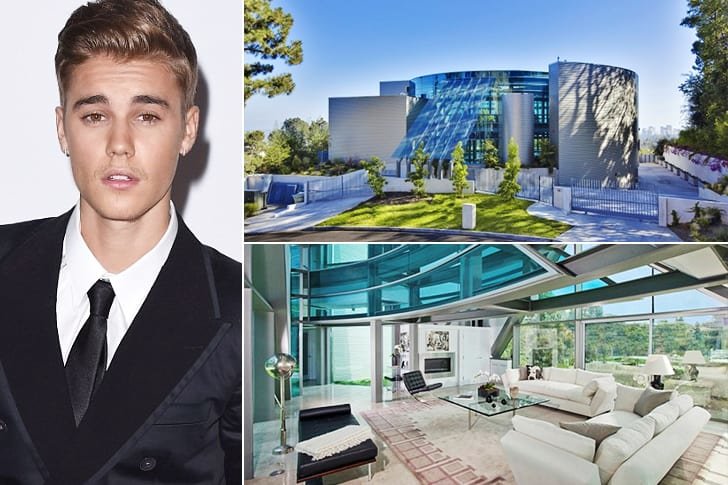 Given his history with paparazzi, no one imagined Beiber would opt for a glass house. And with a net worth of 200 million dollars, the fact that he is renting the house is almost as surprising. His rent? 60 000 $ a month. This 6 500 squares feet glass mansion Bieber calls home is worth 20 000 million dollars and has six bedrooms, seven bathrooms and a crazy infinity pool.
4. DJ Khaled – 10 million, Beverly Hills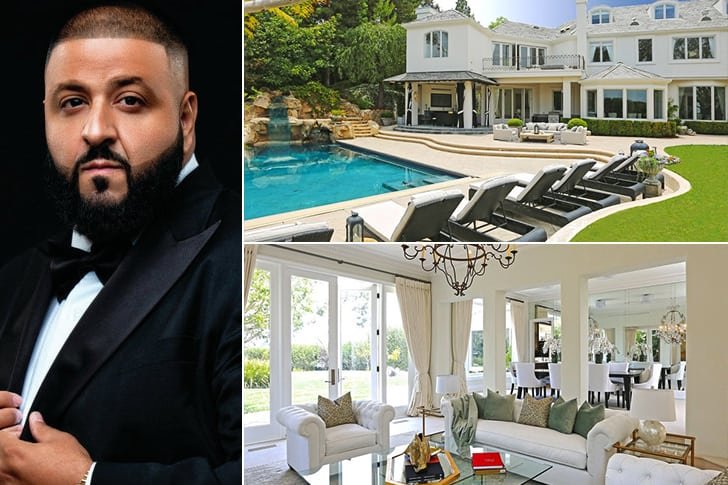 DJ Khaled is the new owner of the Mulholland Estate evaluated at 10 million dollars. The Beverly Hills mansion covers 10 681 square feet on a property close to a whole acre. With seven bedrooms and eleven bathrooms, the DJ could very well host multiple artists. Which is a good thing, since the house also includes a recording studio.
3. Johnny Carson – 65,2 million, Malibu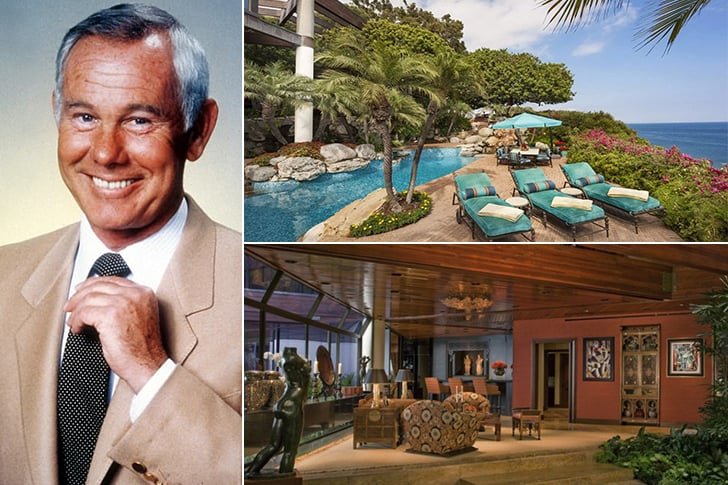 Johnny Carson is a renowned comedian and television host who got especially popular during the time of his show The Tonight Show with Johnny Carson. His fortune, thanks to his TV show which lasted for years, was once estimated at 300 million dollars. Deceased in 2005, the Malibu home he used to live in, which had glass ceilings, a wine cellar, a pool, a guest house and a multimedia room was put on the market at 65,2 million dollars.
2. Denzel Washington – 14,6 million, Los Angeles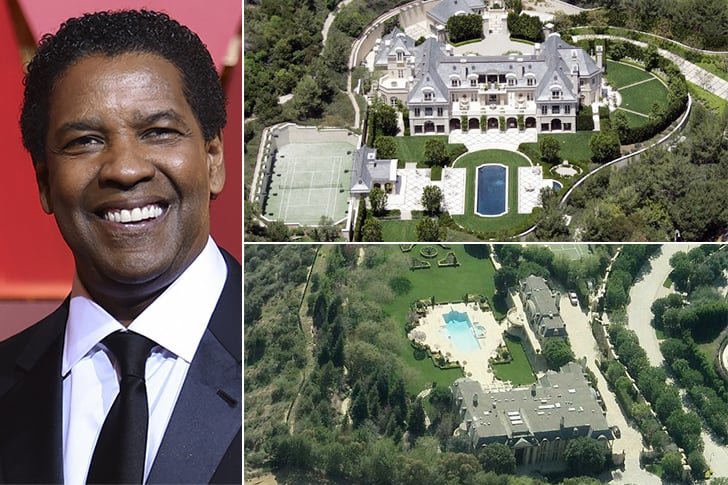 Denzel Washington's mansion is a sight like no other. Situated in Beverly Park, Los Angeles, the impressive home (can we call it a home at this point?) has its own tennis court, pool and a lot more. Thanks to his great talent, Denzel is worth about 220 million dollars. Such a place is therefore not out of his reach.
1. Justin Trudeau – 442 000$, Ontario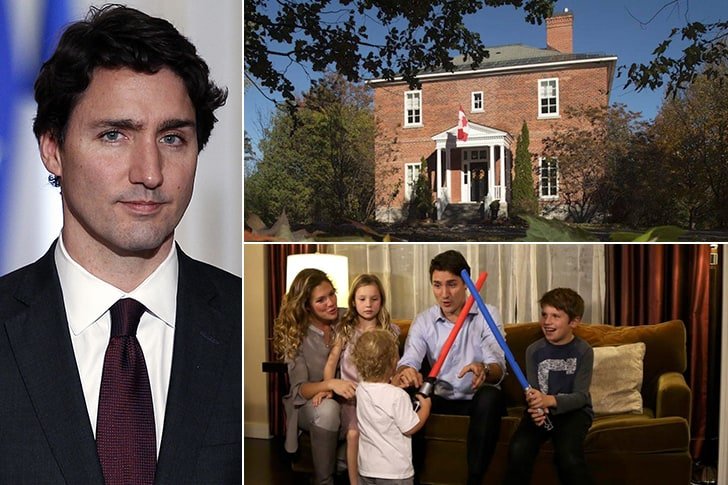 Justin Trudeau and his family live in the Rideau Cottage instead of the official prime minister residency at 24, Sussex. the cottage is situated at 1, Sussex Drive, just in front of the official residence. The family's new house has 22 rooms and was renovated for 400 000$ fifteen years ago. However, the Trudeau did not do any renovations on the house after first moving in and their first year only cost them 42 000$.